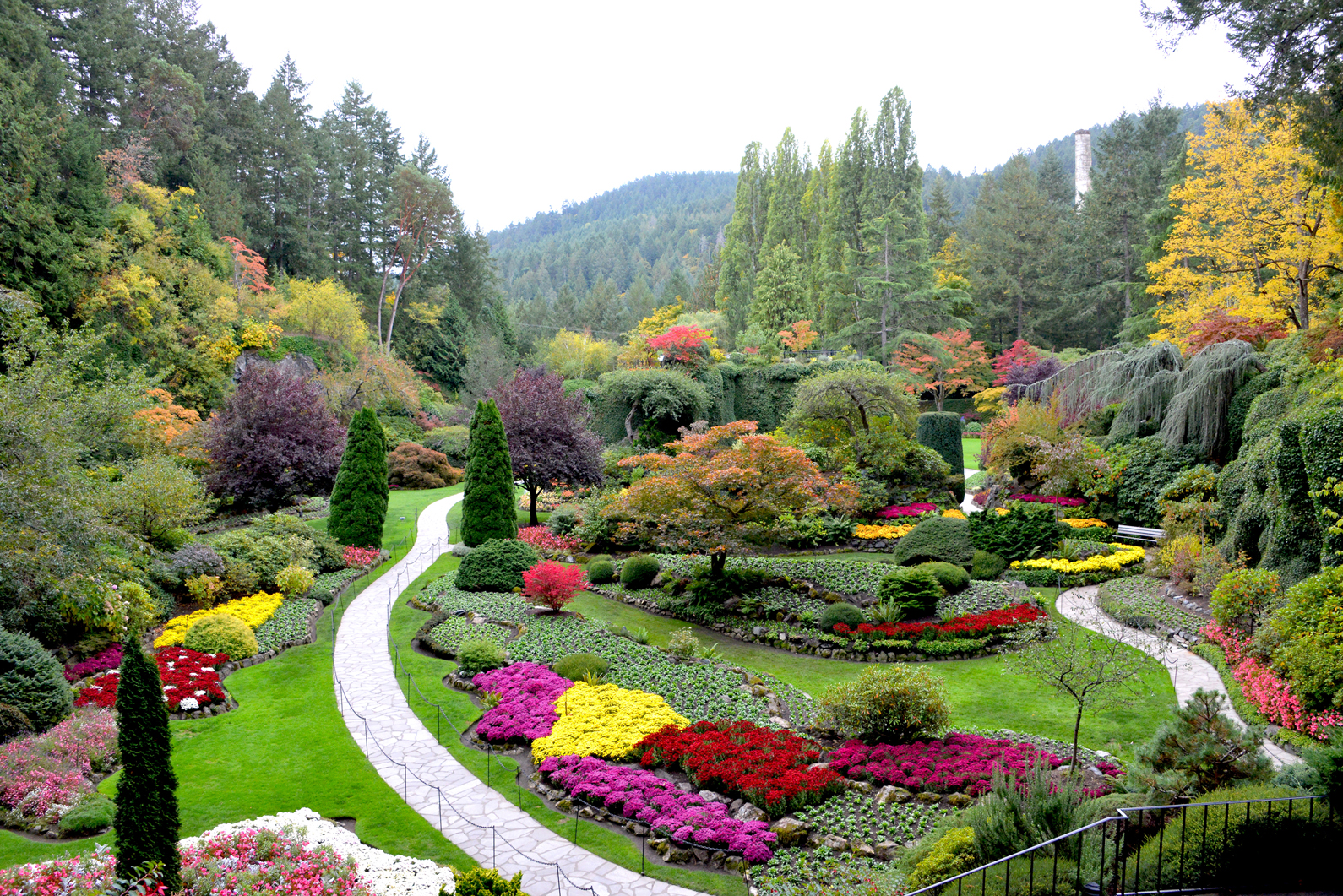 Victoria & Butchart Gardens Adventure (6-12 hrs)
Victoria is rated one of the top 10 places to visit in the world by Condé Nast Traveler Magazine for good reason. Enjoy a spectacular ferry ride through the amazing Gulf Islands, and once on Vancouver Island we'll stop to experience the world famous Butchart Gardens. Enjoy a short scenic coastal drive and a wonderful afternoon in Victoria's Inner Harbour, Beacon Park, Government Street and Antique Row. Then, on your ferry ride back to Vancouver, once again take in the incredible ocean and island sites.  As an optional enhancement, enjoy a 30-minute floatplane over the Gulf Islands back to Coal Harbour in downtown Vancouver.
This fantastic adventure begins with a 45-minute drive from downtown with your personal Urban & Eco-Guide to the Tsawwassen Ferry Terminal, where you will embark on a scenic 90-minute ferry ride through the spectacular Gulf Islands. As you learn about the history of the area, keep your eye out for such wildlife as seals, bald eagles, cormorants, blue herons and a myriad of other birds and marine mammals known to frequent these waters in the Strait of Georgia. Upon arrival on Vancouver Island, you and your guide will explore the "City of Bloom's" world famous Butchart Gardens, which offer 50 acres of flowers and formal gardens. Stroll through the Sunken Garden and the charming English Rose Garden, as well as the Japanese Garden, the Italian Garden, and the Show Greenhouse. Afterwards, you'll drive along the scenic coastal route to downtown Victoria Harbour passing through the posh neighbourhoods of Uplands and Oak Bay and stopping at the Beacon Hill Park for some photos.  Once at the Harbour downtown, suggested activities may include a visit to the Royal BC Museum, the Fairmont Empress, the Legislature, a stroll through Chinatown, or exploring the shops of Government Street and Antique Row. Enjoy an optional Picnic Lunch Bag or visit one of our incredible Best of the Locals ™ restaurants. Your exciting day trip will conclude with a leisurely guided ferry home and a chance to again enjoy the incredible views and wildlife. For those who like something unique, enjoy an optional enhancement of a 30-minute floatplane return over the Gulf Islands back to Coal Harbour in downtown Vancouver.  It's a 'one-of-a-kind' experience that will provide unforgettable memories with super-natural urban, mountain and water views. (Ferry return is base price; Charter Floatplane is an optional Enhancement)  
Participation Requirements:
Class: Easy
Participants must be capable of waking a paved path and dirt paths with some rough terrain for up to 30 minutes at a time. Some elevation and inclines.
Comfortable walking shoes are required, it is recommended that rain gear is brought in the event of inclement weather.